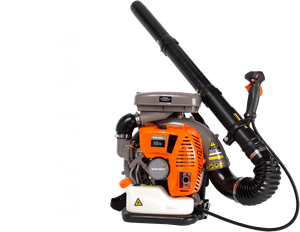 SR-6400L Leaf Blower - Our Best Seller
Schröder SR-6400L, designed by our German manufacturer, stands out for being one of the most powerful backpack leaf blowers among comparable units in the market today. Effortlessly clear through debris with its 2-stroke gasoline engine. Turn up the dial and get tremendous output and airspeed. You don't want to miss this powerful leaf blower.
Sale price

$299.00

Regular price
The Best Backpack

Leaf Blower
Make Your Life Easier - Exceptional Results Starts with the Best Leaf Blower
Different seasons call for different jobs. You need versatile products that can adapt to varying situations—innovative breakthroughs offer Schröder USA a level above the competition. Our leaf blowers are the most effective tool for bulk and tedious tasks. There's power in German engineering.
Delivering Unmatched Leaf Blower Services

2 DAYS
Free FedEx Air Shipping

5 Years
Warranty

45 Days
Free Return Shipping
Introducing a portable, faster, and more accurate hole-making solution.

Choose from a wide range of air spray guns designed for various industries.

You have more precision and accuracy with this handheld option in your workplace.

Replace leaf blower parts with ease and get back to yard work right away.
Superior Technology Leaf Blower Solution
Schröder USA has given everyday users the power of commercial-level leaf blowers. We cement ourselves as an industry leader in providing top-of-the-line leaf blower products by initiating sustainable competitive advantages. Through the ambitious and determined minds of Schröder USA engineers, the best backpack leaf blower is at your fingertips. It's specifically designed to be completely versatile for the environment and use.
A leaf blower's functionality depends on the air volume and speed. Schröder USA uses these metrics to develop a backpack leaf blower with a two-stroke engine that can output speeds of up to 270 MPH, with an air volume of 980 CFM. Its ergonomic design provides you comfort for both short and long work in your environment, and the large fuel tank will help you tackle any job.
Dedicated Service For Your Satisfaction
Unwavering Quality
At the heart of the unwavering quality of our products is trust. People choose Schröder USA because of its enduring value through any circumstance. That means meaningful work, superior innovation, and delivering on what is promised.
Herculean Power
Schröder's robust engine delivers incredible CFM and MPH while manageable in hand. Leave any handheld leaf blower in the dust with the formidable power of our backpack leaf blowers.
Ergonomically Sound
Keep strain and injury at an all-time low while boosting physical efficiency. Work longer without having to worry about aches and pains - continuous, consistent results with our backpack leaf blower.
Versatile Performance
Work no matter the time of the season, no matter the job. Schröder's leaf blowers are designed to tackle your most demanding tasks. It is completely outfitted to keep your jobs swift.
High-Performance Low-Maintenance
Through engineering and producing a full line of power tools for the intricate project, putting the stress on low weight and slim design, Schröder GmbH very quickly became synonymous for high-quality tools in this segment, without ever compromising performance.
Our philosophy has always been to provide the user with tailor-made tools for special projects, instead of offering multi-function equipment which is made for everything, but can't do anything right. Focusing on this goal has facilitated ongoing development of useful tools, leading to a line of more than 50 units for many different applications, all aimed at making intricate projects easier and more precise for our customers.
Read More

About Schroder